Hands-On with the Verizon Video app for Android
9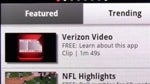 Last week Verizon Wireless
introduced
their new
Verizon Video app
for their Android smartphones, which replaces the older VCast Video app. It is currently free to download and try out, but after the free trial it will cost you
$10 per month
or $3 for 24 hour usage.
We've been testing the
Verizon Video app
over the past few days on our HTC ThunderBolt in a 4G area, though it will work on 3G as well. The app
takes about 4 seconds to load
and has a nice layout to it. The main screen will show videos in three categories - Featured, Trending, and Newest. If you press on the phone's Menu key, it will pop-up with a menu bar at the bottom where you can click on the Categories. From here, you can view all the
Channels
(over 100), or list all the TV Shows alphabetically, as well as listings by Genre. There is also a
Search
icon on the top that allows you to search for a show or video. When you find a particular video you are interested in, you can long-press on it and add it to your Queue for watching later.
When loading a video, it takes about 5-7 seconds to buffer on our 4G connection, and will then begin playing. The
video quality is pretty good
, we'd guess it to be WVGA resolution (800x480), and
playback is smooth
at about 30fps. We didn't experience any pauses or hiccups during playback, which is always a good sign. You can also use the navigation bar at the bottom of the video to rewind, fast-forward, or jump to any part of the video without any noticeable lag. There is also a Facebook icon on the top-right corner of the videos, so that you can share their link on your Facebook profile page.
Now here's the downside - you can only use the Verizon Video app while the phone is connected to Verizon's 4G or 3G data network, which means it
can not be used over a Wi-Fi connection
. Because of this, it will consume your data plan. We did some tests and while using the My Verizon widget, we noticed that
30 minutes of video playback would use about 120MB of data
, or 60 minutes would use close to 250MB. If you are lucky enough to be on Verizon's older Unlimited data plan, then you have nothing to worry about. But if you are on one of their new "tiered" plans, such as the 2GB data plan; using the Verizon Video app for watching 4 hours of videos in a month would use about 1GB of your plan's data. Ouch! Because of this, we'd highly recommend using the My Verizon desktop widget to keep a track of your data usage so you don't go over.
Overall, we're fairly pleased with the functionality and usability of the Verizon Video app, and at $10 per month it's not a bad price. But it would be nice if you could use it over Wi-Fi so it wouldn't use your data plan, or maybe pay $15-$20 a month for it and have unlimited data for the videos.
Be sure to check out our Hands-On Video below!