Hamburger menus could kill your user engagement
19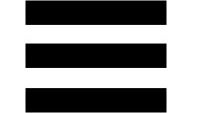 The current trend in mobile app design is to use a hamburger menu for extra options rather than using up precious on-screen real estate for the features. Unfortunately, at least one app, zeebox, has found that using a hamburger menu (aka side drawer) has absolutely killed user engagement within the app. It seems that users have something of an issue with "out of sight, out of mind".
The zeebox team apparently debated quite a bit whether to stick with the tabbed interface that had been used in the social network for TV app, or to shift those options to a hamburger menu. The team eventually decided on a cleaner UI, and the redesign got great reviews on both Android and iOS. But, the trouble was shown in the app's analytics, where the team found that user engagement had dropped almost in half, because they simply weren't seeing the same options on-screen.
Overall, users spent less time in the app, because what they saw on screen was all they interacted with. Ultimately, it seems that the only options that should be dropped into a side drawer are settings and other rarely-used options.
What do you guys think? Do you often go into hamburger menus?