Halo Back smart screen protector for the iPhone 6 and iPhone 6 Plus adds a physical back button
26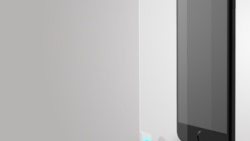 If you've ever used an Android smartphone as you primary driver before switching to the
iPhone 6
or the
iPhone 6 Plus
, you're probably wishing that your iPhone featured a back button.
Although the home button can partially act as a back button, and iOS 8 also comes with a back gesture, a dedicated hardware button is considered by many users to be the simplest and most straightforward way of going back to the previous screen.
Enter Halo Back, a smart screen protector for the iPhone 6 and iPhone 6 Plus that adds a dedicated back button to the two Apple smartphones. Just in case you're wondering, the button is placed in the lower left corner of the device, which is where the on-screen back button resides on Android smartphones.
The back button itself is invisible, meaning that there's no awkward design disruption to worry about. Furthermore, you can pose as some sort of iPhone magician in front of your friends, which can be a plus of its own.
If this sounds like a good idea to you, it's probably an even better idea to pledge $17 for a Halo Back smart screen protector on Kickstater. When this unique accessory launches, it will retail at $49. The Halo Back has already raised enough funds on Kickstarter to meet its $20,000 goal, raising over $110,000 by the time this article was published. The manufacturer says that the first Halo Back units will start shipping in August 2015.