HTC sees 20% drop in November revenue year-on-year
3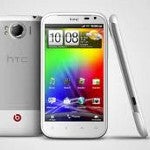 HTC is diligently releasing its performance each month to the public, unlike most of the other companies which only do it quarterly, for which we are grateful.
Its November slump doesn't paint a pretty picture, though, as we see almost a fifth - 19.6% - shaved off its same-month revenue in 2010. Then HTC earned $1.27 billion versus $1.03 billion last month.
Considering that just in the last quarter the Taiwanese managed to handily beat the 2010 year-on-year performance, and that has been a trend for a while (36% increase in October vs October 2010), the drop in revenues is even more stunning.
Despite that
HTC issued a profit warning citing increased competition in the high-end market
, which is its bread and butter, the diminishing revenue should raise some strategy questions in Taipei. The verdict from the patent infringement lawsuit with Apple got postponed from today to December 14, and the case has not been affecting anything in November except legal fees and the possibility that
HTC will not shell $300 million to buy S3 for patent reasons
.
Legal spats with Apple aside, the top US smartphone seller is just not selling as much handsets as last November. It has been criticised by analysts lately for its unibody chassis becoming too look-alike. Adding
just Beats Audio headphones and branding
to a regular Sensation in the case of the
XE
, or overpricing the
Sensation XL
with its single core processor and no expandable memory apparently don't help the cause either. Even the all-new
HTC Rezound
with its dual-core silicon, HD screen and LTE connectivity has been picked at for having uninspiring design.
We'll see what December brings, but the competition is indeed fierce in the high-end smartphone market and the performers this holiday season are shaping up to be Apple, Samsung and Motorola. Still, as long as the profit margin hasn't dramatically changed, HTC will probably weather this period fine, until its new crop of handsets like the
HTC Zeta
superphone shows up.
source:
HTC
via
Engadget