HTC releases a software update for the One's camera, doesn't add more ultrapixels
65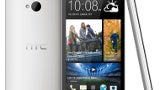 HTC really took a gamble this year by equipping its flagship smartphone with a 4 MP camera. It's clear that while many users should know that megapixels aren't everything by now, there will still be some that will just go for the camera with the highest number.
Unfortunately, that didn't seem to be HTC's biggest problem with this camera, as we weren't exactly blown away when we compared it to the other contemporary shooters out there. But, probably this is why HTC is now releasing a software update which aims to visibly improve the quality of that so-called Ultrapixel camera.
Apparently, the update should bring your version number to 1.29.401.13, and while it won't install Android 4.2 or anything like that, it will attempt to enhance things like the sound capture in Zoe mode, the noise reduction when shooting in slow motion, overall color reproduction and dynamic range. That sounds like a pretty solid change-log to us, so hopefully the improvements will be visible, because, well... the HTC One's camera could use some enhancement. Thankfully, this software update will also bring a number of general bugfixes and improvements that aren't necessarily related to the camera.
The update may or may not be available for your international HTC One already. If it doesn't show up yet, keep checking from time to time until you get the notification.
via:
Pocket-lint