HTC offering Canadians up to $300 to trade-in their old devices for a shiny new HTC One
4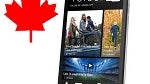 This deal is no rumor thankfully. If you have been on the fence about upgrading or waiting for an incentive to switch to the all-around excellent
HTC One
, here is an opportunity for you.
Just like the promotion that was extended in the US, this weekend only, HTC is offering up to $300 (or more in some cases) to anyone in Canada that decides to trade in their old device for a new HTC One. The usual suspects like an Apple iPhone 5 could catch up to $320.
Not surprisingly at this point, the venerable Samsung Galaxy S III and Galaxy Note II do not seem to command as much as they once did. The rest of the cast of characters can fall anywhere from $100 and up.
The rest of the fine print is pretty much the same as the US promo, buy your new HTC One this weekend, and be sure to create and
save your quote on the HTC Trade Up promo site
, and mail in your old device no later than June 27th. Your old device's ESN or IMEI must be clean as well.
If you take care of your hardware, this promotion can be convenient for those that do not like to sell stuff on eBay or Craigslist. If you are interested, this weekend is your chance.
via:
MobileSyrup