HTC will announce the latest addition to its U line on August 30th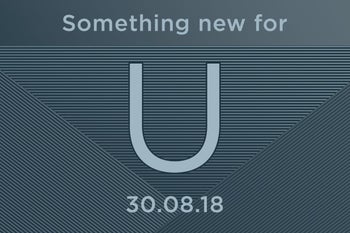 HTC went on twitter to announce the announcement of the latest smartphone of the U series. The message is very sparse on information, the only thing it says is: "Beauty and power meet on August 30th 2018", and, as you can see above, there's a picture that adds "Something new for U". There's no mention of an event, so the announcement itself might happen online as well. As is tradition, people are now playing the name guessing game, some jokingly suggesting that the new device might be called
U12+
+.
The company released its latest flagship device, the
U12+
, just a couple of months ago and it's already using the best chip that Qualcomm currently has to offer, the Snapdragon 845. Knowing that, we have to adjust our expectations to something less exciting.
A better candidate is the
HTC U12 Life
, information about which surfaced earlier this year. The U12 Life will be a mid-range device that will likely come with the Snapdragon 636, 4 GB of RAM and a 6-inch display. The new smartphone will have to make a name for itself in a segment that's become very competitive recently. Things haven't been going great for HTC lately, so the company might launch the new device at a more competitive price, to get people's attention.
Of course, there's always the chance that HTC will surprise us with some other product, but after our
Nokia 9 hype train derailed
last week, we'd rather just wait and see.