HTC decides to pass on Palm, leaves Lenovo as possible suitor
This article contains unofficial information.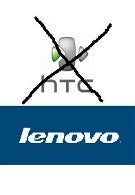 As we
reported
earlier, Palm CEO Jon Rubinstein has said that the company has a plan to become profitable once again, and that he would like Palm to continue to work alone. But while the executive has made it clear that he does not want Palm to be acquired, some other firms have been sniffing around. One of them, Taiwan based HTC, took a look and has decided to pass. The fifth largest global cellphone manufacturer did have some private talks with the webOS developer and decided that an acquisition of Palm would not be right for them. A source close to the situation told Reuters, "
There just weren't enough synergies to take the dealforward." Another company mentioned as a possible suitor, China's Huawei, also decided to pass over Palm. According to Investment Bankers, this leaves the world's fourth largest PC maker, Lenovo, as a potential bidder. The company at the end of last year had $2.9 billion in its coffers, enough to finance a buy out of Palm, which could run in the range of $1.5-$3.0 billion. One banker wondered what exactly a winning bidder would be buying.
"What are you buying - a good operating system?" he said."It's a wounded brand." In the quarter that ended February 26th, Palm sold only 408,000 units of its webOS devices, less than the 600,000 estimated by analysts. Lenovo had a cellphone unit which it sold to concentrate on computers, then bought it back last year. It has produced a model for the Chinese market but needs a product for the U.S. market which is the world's largest based on the number of users. Lenovo is no stranger to big deals, having purchased IBM's PC business 5 years ago.

source: Reuters