HTC ThunderBolt benchmark tests
9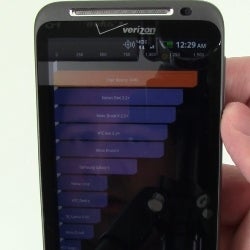 In this video we are taking a look at the HTC ThunderBolt and running it through some benchmark programs.
Earlier in the day we ran the Quadrant benchmark program a few times, and got scores around 1800-1850, but for some reason when we ran the same tests later (as shown in the video), the scores were lower at 1430-1490. We can only think that there must be some background applications running that is eating up CPU cycles for the speeds to drop. Meanwhile, the Motorola DROID X was consistent at 1400-1450.
We also ran the NeoCore program from Qualcomm that tests the phone's frame-per-second rate. On the HTC ThunderBolt we got results from 57.7 to 59.9 FPS, while the Motorola DROID X was about 32 FPS.