HTC RE hands-on
23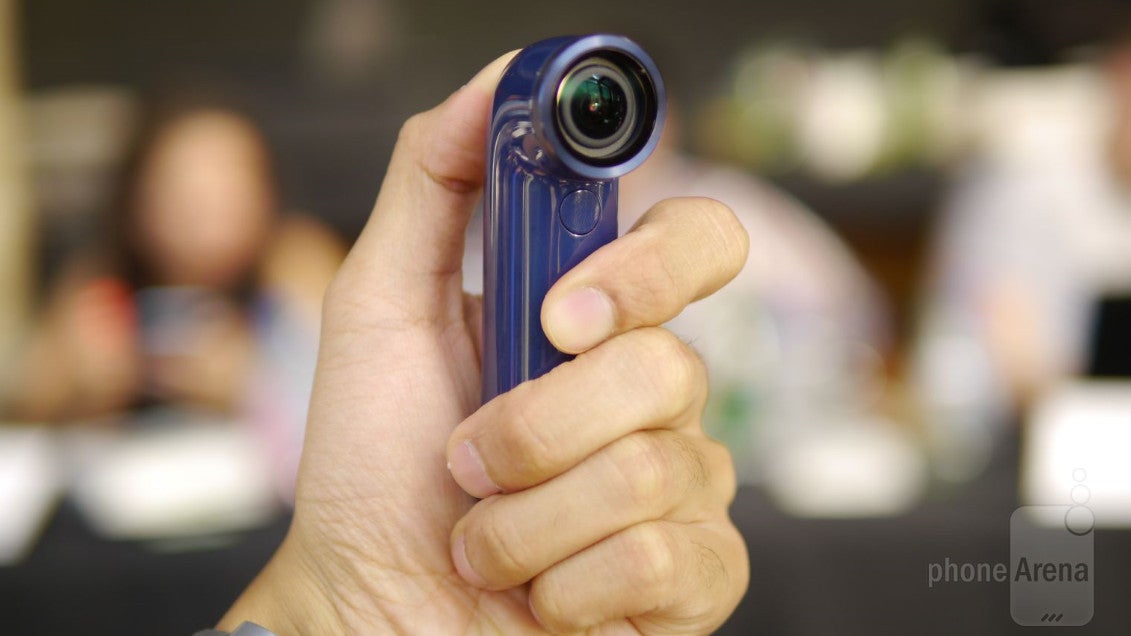 There's no denying that HTC loves to think about cameras, especially when they're the ones to popularize the "
Ultrapixel
" camera. One can argue that there needs to be more improvement in that area alone, but in recent times, they've been outfitting their phones with respectable sized cameras that can compete on the same level as its rivals. Interesting, though, they're doing something strangely out of the blue with the upcoming RE, a REMARKABLE little camera as they have it marketed as.
When you think about action cameras, you probably don't think about HTC per se. Instead, names like Go Pro come to mind, as they've become the leader in the action camera space. It seems, however, that HTC wants to have a piece of the pie as well – so that's exactly where the RE comes into place. Visually, it's an odd looking thing that doesn't look like any other action camera on the market. Rather, HTC's reputation of producing solid industrial designs is present with the RE. In fact, it kind of reminds of a periscope – or one of those asthma inhalers.
Constructed from a single piece of glossy plastic, the design is unique looking – that's for sure! However, we have to say, grasping the RE in our hand pretty much eliminates the notion of shooting vertical videos, which is a common problem when some people capture videos with their smartphones. On one end, there's a 16-megapixel 1/2.3" CMOS sensor, which features a wide-angle 146-degree f/2.8 aperture lens. Meanwhile, on the other end, there's a standard sized tripod mount, microUSB port used to charge its battery/data connectivity, and a flap that covers its microSD card slot (it comes included with an 8GB card).
In being a true action camera, the RE by itself has an IP57 rating for dust and water resistance, so taking it with you in the pool won't damage it. Unlike out smartphones, we don't have to be too concerned if we accidentally drop the RE, since it's pretty durable on its own. Along the top edge, we have a dedicated button where our thumb rests on for snapping photos with a single press – or initiating video recording with a long press. Towards the inside part of the RE, there's another flush button that's used to initiate slow motion capture. Yes, there's a microphone nearby the main shutter key, but in our time using it, we sometimes have a habit of covering it.
Simply holding the RE takes it out of its standby mode, so we're fairly able to snap content quickly. However, due to its lack of a screen of some sort, we're capturing content without exactly knowing how it's being framed – and that's one thing that can become somewhat annoying. To be fair, though, it can be paired via Bluetooth to an Android smartphone, where the RE app acts as a viewfinder and remote shutter. Also, it's used to view and transfer content wirelessly too – as well as to fine tune certain settings.
Now, we managed to take the RE for a spin throughout New York City for a couple of days, and honestly, we're a little bit disappointed by the results. Of course, we have to mention that we're dealing with a pre-production model here, but the distracting part is that most low lighting shots are prone to blurring – the camera itself seems to have a longer exposure, so it's more prone to that. As for video quality, it's also disappointing because of the flat looking and grainy results. Between now and its tentative release sometime in late October, we surely hope they can somehow improve the quality. Oh yeah, we have to mention that you'll need to fork over $200 to pick up the RE. Is it a little excessive? Maybe, depending on your situation, especially when some smartphones deliver better results at the moment.