HTC One wins award for best new mobile handset, device or tablet at MWC 2013
64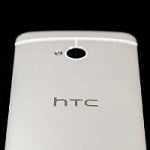 The GSM Association awarded HTC the award for best new mobile handset, device or tablet at Mobile World Congress 2013.
The award was determined by a panel comprised of industry professionals, members of the media and analyst communities. The new device has a lot going for it, and a lot riding on it as well. HTC has endured a fall from grace over the past couple years. The company needs a hero to save the day. The
HTC One
may be that device.
As we reported to you in our hands-on from HTC One announcement, this device is easy on the eyes. The build quality is superb and is probably the best build device turned out by this manufacturer. To back up the build quality, HTC also introduced its overhauled UI, Sense 5. HTC Sense has always been pretty snazzy and the personalization enabled by Sense is very useful. Sense 5 brings with it a new component, HTC BlinkFeed, an all-in-one aggregation which can replace the traditional Sense home screen.
Throw in a super-high-resolution display, Beats Audio, and a new take on camera technology which may prove to be a contender, and it is sure to make an impression. So, congratulations to HTC for the award, and keep checking in with us at PhoneArena.com for our review of the new HTC One.
source:
HTC