HTC One XT launches on China Mobile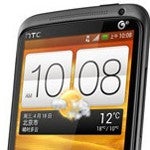 Another addition to the HTC One family has just been released into the wild. The HTC One XT makes its debut in China today. The latest Android powered handset is essentially a HTC One X (the international version, not the AT&T varient) that is customized for its carrier.
The HTC One XT sports the same quad-core NVIDIA Tegra 3 processor that's found inside the One X. The only real change is that the HSPA+ connectivity is dropped in favor of support for China Mobile's 3G.
Perhaps where the HTC One XT packs the hardest punch is in the wallet. This handset costs 5,688 yuan, which is equivalent to approximately $899 in the U.S. It's not clear how many of China Mobile's over 650 million subscribers will be willing to pony up for HTC's quad-core goodness, but it is one of only a few high-end, non-Chinese brand options that also supports China Mobile's 3G.