HTC One X for AT&T hands-on
28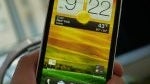 Yesterday, we were fortunate enough to check out the
international version of the mighty HTC One X
during HTC's press event at Mobile World Congress, but today, we're checking out the variant that AT&T will be getting in the near future – you know, the one that has a
dual-core processor and 4G LTE connectivity
. Even before getting our hands on it, we were a bit skeptical about its performance, however, we have to admit right from the get-go that it's no concern whatsoever.
Let's talk design first! Aside from the distinguishable
AT&T branding
found next to its earpiece, it's nearly identical to the international one we checked out from yesterday – and it's even more impressive that it maintains a
skinny profile of 0.36"
(9.27mm) thick, which is only a hairline thicker than its HSPA+ flavored sibling. Donning a milky white
polycarbonate unibody exterior
, it's soundly sturdy in its construction, and at the same time, it's
super lightweight
(4.62 oz) in the hand to remain almost unnoticeable when held. At its core though, it employs the same design language as previous HTC devices, but interestingly enough, it's flaunting three capacitive buttons.
Right off the bat, we have to admit that we're smitten by its lovely looking
4.7" Super LCD2
, thanks to its
720 x 1280 resolution
, wide-viewing angles, and natural color tones. In fact, HTC wasn't kidding around when they talked about it being "
visible from every angle
," because frankly, it retains its sharp looks no matter what angle we look at it. And to further solidify its sturdiness, it's strengthened by
Gorilla Glass
to keep its surface relatively scratch-free.
Needless to say, it's choice of employing a
1.5GHz dual-core Qualcomm Snapdragon S4 processor
might detract some people, especially when the international one is flaunting an even more impressive quad-core NVIDIA Tegra 3 CPU, but nevertheless, there's no worries since it moves and performs swimmingly in almost all aspects. Even with the
HTC Sense 4.0 experience
running on top of Android 4.0 Ice Cream Sandwich, it effortlessly executes most tasks with minimal exertion – plus, it's beautified thanks to it fluidity. As for the Sense 4.0 experience, it's clearly refined with its different execution, but at its core, we find most of the items we're accustomed to seeing with past devices. We'll talk more about that in another article.
For the photo-centric individuals out there, it perfectly plays to their needs as its flaunt an admirable
8-megapixel auto-focus camera
with LED flash. Again, thanks to Sense 4.0, its camera interface has been enhanced with a variety of new features – such as having the ability to snap photos continuously while holding down the shutter key, and being able to snap a photo with shooting a 1080p video. Lastly, AT&T's version of the HTC One X is blessed with those good old lovable
4G LTE speeds
, which is yet another distinct feature specific to this version. Oh yeah, it has
Beats Audio
support as well to provide the utmost best audio experience around on any smartphone. All in all, it's shaping out to be a beauty in every way imaginable, but alas, we're still waiting to hear a confirmation regarding its pricing and availability date.