HTC One M9 vs iPhone 6: which phone is faster? (real-life speed comparison)
71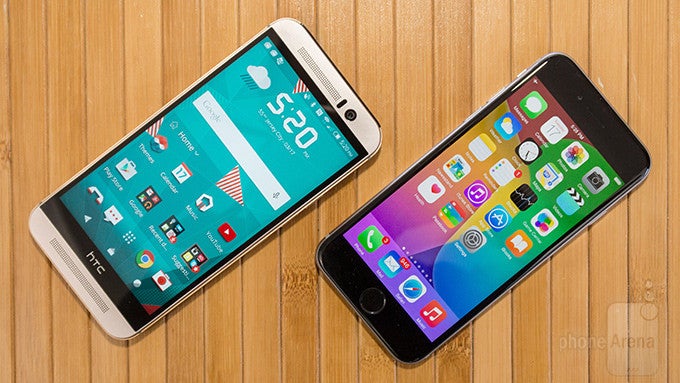 Among the many things the iPhone is loved for are its speed, responsiveness, and reliability. The phone, despite not rocking tons of RAM and a gazillion-core processor, performs so well that it can put many of its high-end rivals to shame. HTC's latest flagship, the
HTC One M9
, is no slouch either. Just like its predecessors, it runs swiftly and fluidly, without lags and slowdowns ruining the user experience. Is it faster than the
iPhone 6
, however? Well, that's what we're about to find out.
The setup
This speed comparison between the HTC One M9 and the iPhone 6 follows the testing model set by our previous comparisons. In a nutshell, we picked a bunch of apps which we launched on both phones, side by side, and observed their performance. We measured the start-up times for each pair of apps and gave a point to the phone that loaded it faster.
Of course, we wanted to keep the race as fair as possible for the two handsets, and to do that, we had the HTC One M9 and iPhone 6 connected to the same Wi-Fi network with speedy access to the internet. Also, they were configured to use the same accounts for email, contacts and other services. Before being loaded with our test apps, the iPhone 6 and the HTC One M9 were reset to their factory state.
The results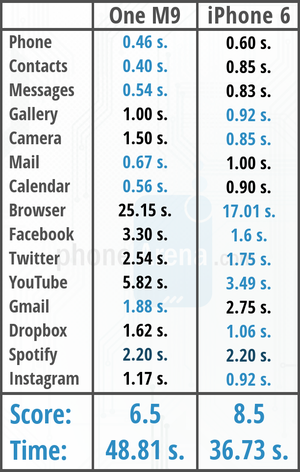 Unsurprisingly, the HTC One M9 started the race with a bang. Native apps like the phonebook, the calendar, and the dialer were first on the list; HTC's flagship handled these marvelously, as always. Its short and subtle transition animations make the whole UI feel snappy and responsive.
On the other hand, the iPhone shined with the nearly instant launch of its camera. We were also impressed by the swift operation of its web browser, Safari, which performed better than Chrome running on the One M9. In addition, popular third-party apps like Twitter and Instagram were noticeably faster on Apple's smartphone. At the end, the iPhone 6 got the higher score, although it wasn't exactly leading by a mile.
All in all, both the iPhone 6 and the HTC One M9 excel when it comes to overall UI smoothness and responsiveness. According to our testing, however, the iPhone 6 can be considered a tad faster than the One M9 when it comes to real-world performance. Of course, the HTC One M9 is not a slow phone by any means, but it's going to take further improvements in the way it handles apps if it is to beat Apple's finest.
Software versions of the smartphones used:
HTC One M9: Android 5.0.2, software number 1.32.401.15