HTC One M9 camera review: Exploring every corner of the Sense camera app
12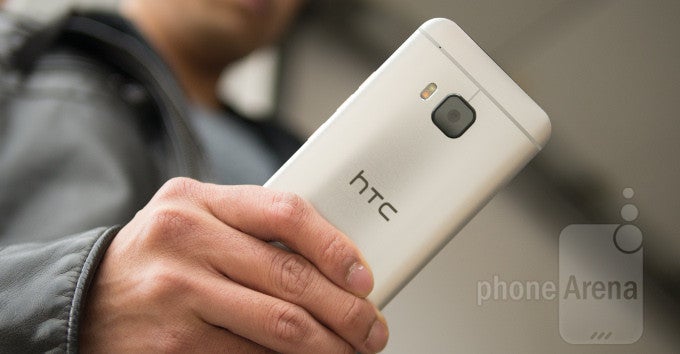 Despite a history of excellence and innovation, time hasn't been exactly kind to HTC, for the company has been losing steam for a few years now, seemingly unable to keep up with much larger rivals like Samsung, Apple, and even LG, all of which dwarf it in terms of size. And it's not because their devices are of poor quality — there are business reasons that keep HTC from realizing its full potential — but that doesn't mean the last few years haven't been a bit disappointing for HTC fans anyway. Indeed, if we were to point out one consistently problematic area for flagship HTC devices, it would be the camera — an arguably integral part of the modern smartphone.
For a while now, the UltraPixel tech of those top shelfers has been the prime suspect. The general idea behind it, HTC told us, was that the number of pixels is not as important as their size, and, on paper, we couldn't help but agree. Unfortunately, even when taking depth of detail out of the equation, we still had to call it as we saw it — the 4-megapixel UltraPixel snappers of the One M7 and One M8 were underperformers. So much so that even the depth sensor of the One M8, which allowed the software to work out some
better-than-average bokeh effects
, wasn't enough to convince us that the One M8 deserved a spot next to the industry's heavyweights from the above-mentioned trio of tech companies.
With the One M9, however, HTC finally admitted defeat, and put the UltraPixel snapper on selfie patrol. At the back, we now have a 1/2.4", 20-megapixel camera, courtesy of Toshiba, and
f
/2.2 lens. If you've been keeping up to date,
you'll know that we aren't particularly fond of this new configuration
, either, but today is not about that. Today, we take an in-depth look at the Sense camera software and what it can do.
Home, Sweet Home!
While most manufacturers have moved to more streamlined, clutter-free camera interfaces, HTC is having none of that. The interface is filled with indicator icons and options, including how much video footage or photos worth of space you have remaining, and controls for all kinds of manual settings. You can tweak white balance, exposure correction, set maximum ISO, and choose shooting and scene modes. Throw in the alignment grid into the mix, and you've got yourself one busy UI. Thankfully, the grid is optional, and the aforementioned settings can be hidden to get a very clean layout that only gives you access to the flash and shooting modes. In short, HTC is catering to both amateurs and hobbyists.
But that's quite the list, and it's not even close to an all-inclusive one. So what are all these various settings and shooting/scene modes about? Let's explore them in detail.
Controls
The quick toggles layered on top of the interface are mostly dedicated to essential controls, as should be the case. When shooting in Auto, the first setting is ISO, though keep in mind that it works a little different than on some other smartphones. That is, you're actually setting a
limit
on how high or low ISO can go
, not an actual, fixed value. In our experience, this can be occasionally found useful in situations where the software algorithms push it too high, introducing noise.
Next up, we've got exposure correction, which is a fairly straightforward control, even though we wish more manufacturers would finally discard the outdated slider in favor of something more easily adjustable on the fly — like what Apple did with the iPhone camera app. In any case, the option still allows you to correct for poor judgment on the software's part, and either boost or lower brightness for any given scene.
And lastly, we've got access to white balance, though in Auto mode you can only set types of light (daylight, incandescent, fluorescent, etc.), and not tweak the actual Kelvin value. For that, you need to switch to Manual mode, where the option is readily available. Speaking of manual mode...
Scene modes? Shooting modes? Which one is it?
With most cameras in recent years, shooting and scene modes are two distinct categories that are quite different in their purpose. A scene mode, then, is landscape, portrait, night, fireworks, macro, and other similar ones that simply let the software know that it should tweak a few variables to more adequately capture a given composition. A shooting mode, in contrast, is panorama, bokeh, augmented reality, photo spheres, HDR, and manual — or the kind of options that radically change the behavior of the camera.
With HTC's Sense camera app, however, such distinction is either lost on the developers, or the mash-up between the two categories is the result of the designers' efforts to make everything relatively easy to activate, as the shooting mode menu (available from the bottom left or by swiping left and right on the screen) could otherwise feel and look overpopulated. Still, it's weird that manual and HDR are part of the scenes family and aren't activated through the shooting modes interface.
Manual mode and...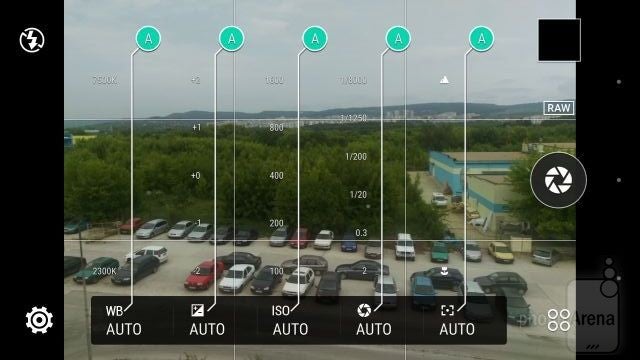 The above lack of consistency in interface design aside, let's talk about what is one of the most comprehensive manual camera modes available in flagship devices currently on the market. With the One M9, you're getting the full manual experience — you can tweak focus and bypass the sometimes unreliable automatic focus, set shutter speed (very rare) and unlock some more creative uses for the camera, and play with essentials such as exposure correction, ISO (assign a fixed value), and white balance. As mentioned already, in manual you can pick an exact temperature ranging from 2300K to 7500K. This can be very useful in conditions with challenging lightning, but is obviously an option that is mostly limited to hobbyists and pros in its appeal.
... the rest
Other available scene modes include portrait, landscape, text (over-sharpens and brightens up images to make text easily legible), and macro, along with HDR and night.

Auto (left) vs Text mode (right)
In the case of HDR, you obviously have to account for it as you go, as there's no option to make it work automatically, like with the Galaxy S6 for example. Interestingly enough, HTC's is one of very few camera apps that actually allow you to use the flash in HDR mode. We spent quite some time trying to figure out the types of scenes the combination of HDR and flash would prove useful in, but without success. Our suspicion is that highly dynamic scenes with subjects that are backlit is where this is supposed to kick in and help clear up shadows (more so than using just HDR), but again — the mode is either poorly coded, or we couldn't get it to work.
As for night, expect the usual kind of tweaks to apply — slower shutter speed, higher ISO, and no flash. In one test, shooting an identical scene, the image with night mode on was taken at 1/5 seconds speed and 1600 ISO, while the control shot in Auto fires the flash, exposes for 1/9 seconds, and only pushes ISO to 800.
Shooting modes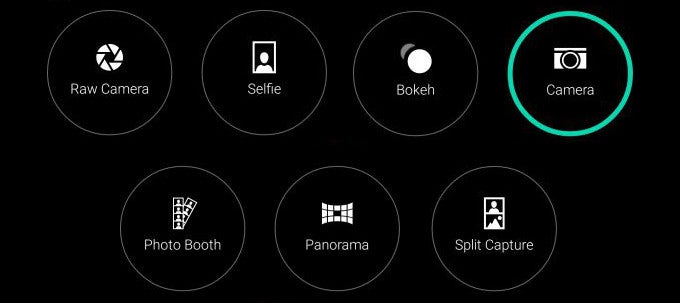 If you exclude HDR and manual, there are 7 dedicated shooting modes available with the HTC One M9 at most. Out of the box, the camera doesn't come with all of them pre-loaded, though, so you need to add them through the switcher menu. Speaking of switching between modes, you have two options — swipe left and right on the screen to cycle through them, or just click the icon with the four circles at the bottom left.
So what do we have available, and what is the purpose of each? Since we've already covered Auto (called simply 'Camera' in the menu) in sufficient detail, we'll skip over it and focus on the rest.
Selfie
Unlike most camera interfaces that simply have a button that you can use to switch between the front and rear cameras, with the One M9 we have a dedicated Selfie mode.
The special interface has a few options available, including white balance presets and exposure correction, but also a delayed shutter setting and what is most commonly known as Beauty mode. That last one basically allows for some airbrush magic, smoothing over imperfections of your skin up to a manually selected threshold. We won't lie— we aren't big fans of this option, as it's usually way too obvious. That said, we can't deny that the ladies may very well get hooked on the feature. What we think everyone will agree on, however, is the very perceptible delay that any level of beautification adds to the viewfinder — at the max setting, there's something along the lines of nearly a second of lag, which can be a bit annoying.
In any case, the Beauty slider struck us as weird, as there's a dedicated Portrait mode that airbrushes your face, too. In addition, the UltraPixel camera up front is also capable of HDR shots, so dynamic backgrounds are handled better.
Photo Booth
As the name implies, Photo Booth is simply a clever Selfie mode that lets you capture four photos which are then stitched together in a 2 by 2 collage (portrait and square) or filmstrip. You have about 3 seconds between successive snaps, presumably to prepare a different pose.
The rest of the available settings are shared with Selfie mode — you get to set a countdown (up to 10 seconds long), tweak exposure correction and white balance, and apply airbrushing to photos.
Bokeh
Though HTC ditched the Duo Camera system of the One M8, the One M9 has a Bokeh option nevertheless — it's just software-based. The mode instructs you to leave 0.2ft/60cm between the camera and your subject in order to deliver a good result, but in our experience it worked just fine even when we had the phone closer. The process of snapping a bokeh photo takes about 3 or 4 seconds until the image is processed, and you have to do your best to keep still.
In general, we're happy with what the mode delivers, as depth of field is definitely more pronounced in Bokeh compared to a control shot in Auto. Unfortunately, the mode is only available for the main camera at the back, so no selfies.
Panorama
At this point in smartphone's development, the ability to shoot panoramic photos is pretty much essential to the experience, and we likely don't need to explain what the panorama mode is all about (hint: you take wide-angled, panoramic photos).
By now, it's become clear that not all manufacturers feel they need to dedicate extra effort and resources in order to offer a superior panorama feature, and HTC falls into that group. Sure, the process of snapping a panoramic photo is easy enough, and the stitching software does its job very well — even if you muck it up — but resulting shots are honestly a bit disappointing.

For starters, the maximal resolution of a stitched up panorama image seems to be capped at about 8 megapixels when shooting in landscape, and 10 megapixels in portrait. In comparison, heavyweights from Samsung's and LG's camp can stitch up panoramas some ten times larger, giving you
a lot
of flexibility in this type of photography where more is actually better. This limitation of the mode shows, as resulting snaps are relatively poor in detail. Thankfully, exposure is dynamically calculated and tweaked appropriately as you pan around, so that's good.
360 (Photo Sphere)
Inside Panorama, there's a separate 360 mode available. As the name suggest, this allows you to capture your surroundings in their entirety and create compelling 'Photo Spheres'. But in the case of the One M9, it's fair to say that there's something funky going on with this mode.
To start off, it's quite obvious that HTC spent time and effort trying to simplify the experience and help interested users better capture what they see. The mode is almost foolproof and is very responsive in terms of understanding what you've already gotten on tape, and what remains to be shot. More importantly, however, we actually had better results doing 360s without a tripod (which we usually use), as something about the phone being fairly static confused the software, resulting in an unsightly image with a ton of ghosting and stitching issues. Since most people won't have a tripod handy, this is actually a good trade-off to be honest.
Here's what we got:
Split Capture
Yet another dedicated shooting mode, Split Capture does exactly what you'd expect — splits an image by combining what both the front and back camera see into a single shot. It's not a terribly interesting feature, but nice to have for those rare scenarios where you want to be part of the shot, but the main subject is the scene in front of your main camera. Interestingly enough, the resulting image is only about 4 megapixels large.
Raw Camera
Last on our list is the Raw Camera mode, which, as the name suggests, outputs two images for each snap you take — one in a standard .JPG format, and another in .DNG. If the second extension sounds cryptic to you, it's because this mode simply isn't aimed at you, but enthusiasts and/or professionals. But why?
In short, raw images are just that — raw. This means that the information gathered by the camera sensor for every scene is only minimally processed, but the shots are not usable before being converted to a 'positive' file format like JPG. In a way, raw images are the negatives of the old days — they include all the information needed to get a normal image out of them, but are not yet usable. This gives the aforementioned group of photography buffs much better control over the results, allowing them to tweak images
significantly
, specifically if compared to what tools you have at your disposal once an image is already converted into JPG. Again, Raw Camera isn't for everybody, but a nice addition for some.
Lastly, it's important to mention that raw images are much larger than their compressed counterparts. For example, the same image in JPG format took up 3.44MB of space on the HTC One M9's internal storage, while its raw equivalent occupies 38.5MB. This potential issue is only compounded by the fact that when shooting in Raw Camera, the software saves a copy of both a JPG and RAW image, so in that particular case a single shot cost us over 42MB of storage. Something to keep in mind.
Video
The One M9's predecessor lacked in the minds of power users in terms of one specific feature relating to the camcorder — 4K UHD video capture. With the One M9, however, HTC finally took the step and embraced what many consider to be the future, and delivered on that count. The phone handles the mode fairly well, delivering excellent detail and managing exposure expertly for the most part, but focus seems to be an issue, as it's being adjusted
a lot.
It's worth pointing out that clips are limited to 6 minutes (to avoid overheating) and the flash is automatically turned on and set to 'fill' (always-on).
In addition to 4K UHD capture (at 30 frames per second), the M9 can also shoot 1080p (both 30 and 60 frames per second) and even do slow motion video (720p at 120 frames per second). Overall, the M9's camcorder does okay when light is abundant, but falters when night comes.
Verdict
Despite its shortcomings, the Sense camera software is one of those pieces of (hard) work that we simply can't help but support. In a world where Android manufacturers seem more and more interested in simplifying the user experience, HTC is striking a balance between extra functionality — and thus, complexity — and a camera app that can be used by everybody.
We won't lie: by default, the camera interface is on the busy side, and could be even seen as a bit overwhelming by amateur users. Perhaps HTC conducted research and found that prospective buyers like it when the camera software looks and feels powerful, or perhaps it just went with what the Sense team thought is best. If we were to chime in, though, we'd probably suggest that the company went the other way instead, and delivered a UI that is a bit more friendly to your average Joe. After all, if you're an advanced user, it's unlikely that you'll mind checking a box that sends you into a dedicated, 'pro' mode.
Beyond the way the interface is organized, however, HTC still has a long way to go before it can compete in terms of image quality, as we've noted in
our review
and
subsequent in-depth camera comparison
. And that, more than anything else, is what the One M9 and its successor will be judged by.