HTC One (M8) vs LG G2 vs iPhone 5s: specs comparison
1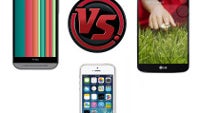 In case you somehow missed the news flood, the long-awaited HTC One 2014 just got official.
A rite of passage ritual is, then, in order. Instead of lighting incense, however, we usually like to celebrate new flagship announcements by ruthlessly pitting companies' new star pupils against the toughest out there. The subsequent smoke clears out in a day or two, by which time we usually have a fairly good idea of the device's odds of survival.
With the first round over
, it's time to look at exactly what the new One has to offer when compared with relatively older models on the market. That's important, as a sizable portion of the consumer base will need to be lured over to HTC's camp, and for that to happen, it needs to offer something truly compelling. If you ask HTC's PR, the Duo Camera on the One 2014 is just that ace up its sleeve, but it would be presumptuous to call it at just that. Sure, the
LG G2
, for example, is the less impressive powerhouse of the two, but it's also cheaper, and the
iPhone 5s
, as always, still offers plenty of reasons to pick it up. Apple's compact phone is considerably more expensive than LG's aging flagship these days, but it still puts that excellent build to the table, and it's often one of very few choices on the market for those looking for a truly pocket-friendly device.
So, put side-by-side, how do these three stack against each other? The answer awaits right below.
500 cd/m2 (nit)
450 cd/m2 (nit)
Oleophobic coating, Ambient light sensor, Proximity sensor
Scratch-resistant glass, Ambient light sensor, Proximity sensor
Ambient light sensor, Proximity sensor
Apple A7 (28 nm)
Qualcomm Snapdragon 800 MSM8974
Qualcomm Snapdragon 801
Dual-core, 1300 MHz, Cyclone, 64-bit
Quad-core, 2260 MHz, Krait 400
Quad-core, 2300 MHz, Krait 400
PowerVR G6430
Adreno 330
Adreno 330
64GB, not expandable
32GB
32GB
iOS (12.x, 11.x, 10.x, 9.x, 8.x, 7.x)
Android (5.0 Lollipop, 4.4.2, 4.2.2)
Android (6.0 Marshmallow, 5.0 Lollipop, 4.4.3, 4.4), HTC Sense UI
Qualcomm Quick Charge 2.0
34.30 hours
the

average

is 17 h (996 min)
10.4 days (250 hours)
the

average

is 20 days (472 h)
34.2 days (821 hours)
the

average

is 20 days (472 h)
10.00 hours
the

average

is 19 h (1110 min)
21.30 hours
the

average

is 19 h (1110 min)
20.00 hours
the

average

is 19 h (1110 min)
34.4 days (826 hours)
the

average

is 0 days (0 h)
20.7 days (496 hours)
the

average

is 0 days (0 h)
Single camera
Single camera
Dual camera
8 MP (Sapphire crystal lens cover, Autofocus, BSI sensor)
13 MP (Sapphire crystal lens cover, OIS, Autofocus, BSI sensor)
Aperture size: F2.2; Focal length: 29 mm; Sensor size: 1/3"; Pixel size: 1.5 μm
Aperture size: F2.4; Focal length: 29 mm; Sensor size: 1/3.06"; Pixel size: 1.12 μm
Aperture size: F2.0; Focal length: 28 mm; Sensor size: 1/3"; Pixel size: 2 μm
1920x1080 (Full HD) (30 fps), 1280x720 (HD) (120 fps)
1920x1080 (Full HD) (60 fps)
1920x1080 (Full HD) (60 fps), 1280x720 (HD) (120 fps)
Time-lapse video, Picture-taking during video recording, EIS
OIS
HDR, Video light, Video sharing
1.2 MP
2.1 MP
5 MP
1280x720 (HD)
1920x1080 (Full HD) (30 fps)
1920x1080 (Full HD)
4.87 x 2.31 x 0.30 inches (123.8 x 58.6 x 7.6 mm)
5.45 x 2.79 x 0.35 inches (138.5 x 70.9 x 8.9 mm)
5.76 x 2.78 x 0.37 inches (146.36 x 70.6 x 9.35 mm)
3.95 oz (112.0 g)
the

average

is 6.5 oz (184 g)
5.04 oz (143.0 g)
the

average

is 6.5 oz (184 g)
5.64 oz (160.0 g)
the

average

is 6.5 oz (184 g)
Back: Aluminum
Back: Aluminum