HTC EVO View 4G is Sprint's 7" tablet of choice, to come in the summer
10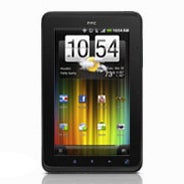 Having seen the
HTC EVO View 4G
already show up on Sprint's official web page, we aren't really taken by surprise now that Dan Hesse, Sprint CEO, officially introduced the device at CTIA 2011. For those who have missed our previous coverage on the HTC EVO View 4G, we shall say that it's an almost exact copy of the
HTC Flyer
, the 7-inch tablet that the manufacturer unveiled at MWC 2011. What's the difference? Well, the EVO View 4G is actually... 4G, being able to connect to Sprint's high-speed
WiMAX network
.
So, as we mentioned, the HTC EVO View 4G for Sprint will sport a
7" capacitive touchscreen
with a resolution of 600x1024. Naturally, you'll be able to use it with HTC's Scribe technology (a digital stylus), which should ease the process of taking notes. Other useful features include HDMI-out and DLNA support, as well as mobile hotspot for up to 8 devices.
Software-wise, the biggest drawback to the HTC EVO View 4G seems to be its initial launch with
Android 2.3 Gingerbread
. Fortunately, HTC has promised an
update to
Honeycomb
sometime down the road. However, we hope our encounter with the Android 2.3 tablet won't be really such a pain, since masking the UI will be non other than the critically-acclaimed
Sense
user interface. Still, we've not encountered it in its tablet-powering form yet, so who knows, it might either be fine, or a disaster. We'll see.
The HTC EVO View 4G for Sprint will hit the market sometime
in the summer
, when it'll undoubtedly face some fierce competition on the tablet market, mainly from devices like the BlackBerry PlayBook, T-Mobile G-Slate and Samsung Galaxy Tab 8.9.
source: HTC