HTC Desire EYE vs Apple iPhone 6: first look
1
Apple's baby in the iPhone 6 is no doubt the phone to beat at the moment, which shouldn't be too much of shocker considering that sales have been pretty upbeat. Of course, it's proven itself in being a versatile thing when it comes to taking snapshots, but the HTC Desire EYE is gunning to give it some heated competition. Despite it not being necessarily being tagged as a flagship device, we can't count out the Desire EYE, seeing that it bears many of the specs and qualities indicative of a high-end phone.
Design
It's that age old comparison between plastic versus metal, so we know what that entails and whatnot, as both materials offer their own unique qualities. Sure, it might not have as much of a premium quality to it, but the HTC Desire EYE's plastic construction permits it to have an IPX7 certification for water resistance, which is undoubtedly helpful for certain situations. In contrast, the iPhone 6 offers a more premium finish with its aluminum body, but it feels slippery when held – albeit, its size is more ideal over the Desire EYE. The two designs might be different on the surface, but you'll be surprised by some of their similar qualities – like their "
flatter
" designs and contrasting colored bezels.
Display
While the iPhone 6's 4.7-inch 750 x 1334 Retina Display is effective enough to show details, upon closer inspection, though, the HTC Desire EYE's 5.2-inch 1080 x 1920 LCD display clearly delivers the sharper results. Despite that, we can't complain about the other pleasing qualities of the two screens, but we do notice that the iPhone 6's screen is marginally brighter, which helps out when it comes to viewing it outdoors. Until we're able to run a few benchmark tests on the display, it's really tough to gauge the overall quality of the Desire EYE's display, but for what we can see at the moment, it has enough gas in the tank to keep it in good competition.
Interface
Yes, they're running two totally different, competing experiences, but they're something all too familiar – even on the Desire EYE, seeing that it's running the same Sense 6.0 UI as the M8. One central thing we appreciate that's focused by the two, is how they focus the experience heavily on simplicity. Of course, iOS 8 has been very cognizant in giving users a very intuitive interface, but HTC also follows in a similar path. However, we do prefer the more modern design language of Sense 6.0 over iOS 8. Not only that, but Android as a whole offers more depth and functionality than iOS.
Processor and Memory
HTC's new product is packing a contemporary piece of silicon, a quad-core 2.3GHz Qualcomm Snapdragon SoC coupled with 2GB of RAM, which provides of all the processing power to handle a power user's demands. However, we notice more snappiness with the iPhone 6's 64-bit based dual-core 1.4GHz Apple A8 chip with 1GB of RAM. We know already that the iPhone 6 is a monster when it comes to gaming performance, so we're hoping that the Desire Eye will do the same.
The iPhone 6 as we know is available in 16GB, 64GB, and 128GB capacities, while the Desire Eye is available in a single capacity of 16GB, but it can be supplemented thanks to its microSD card.
Camera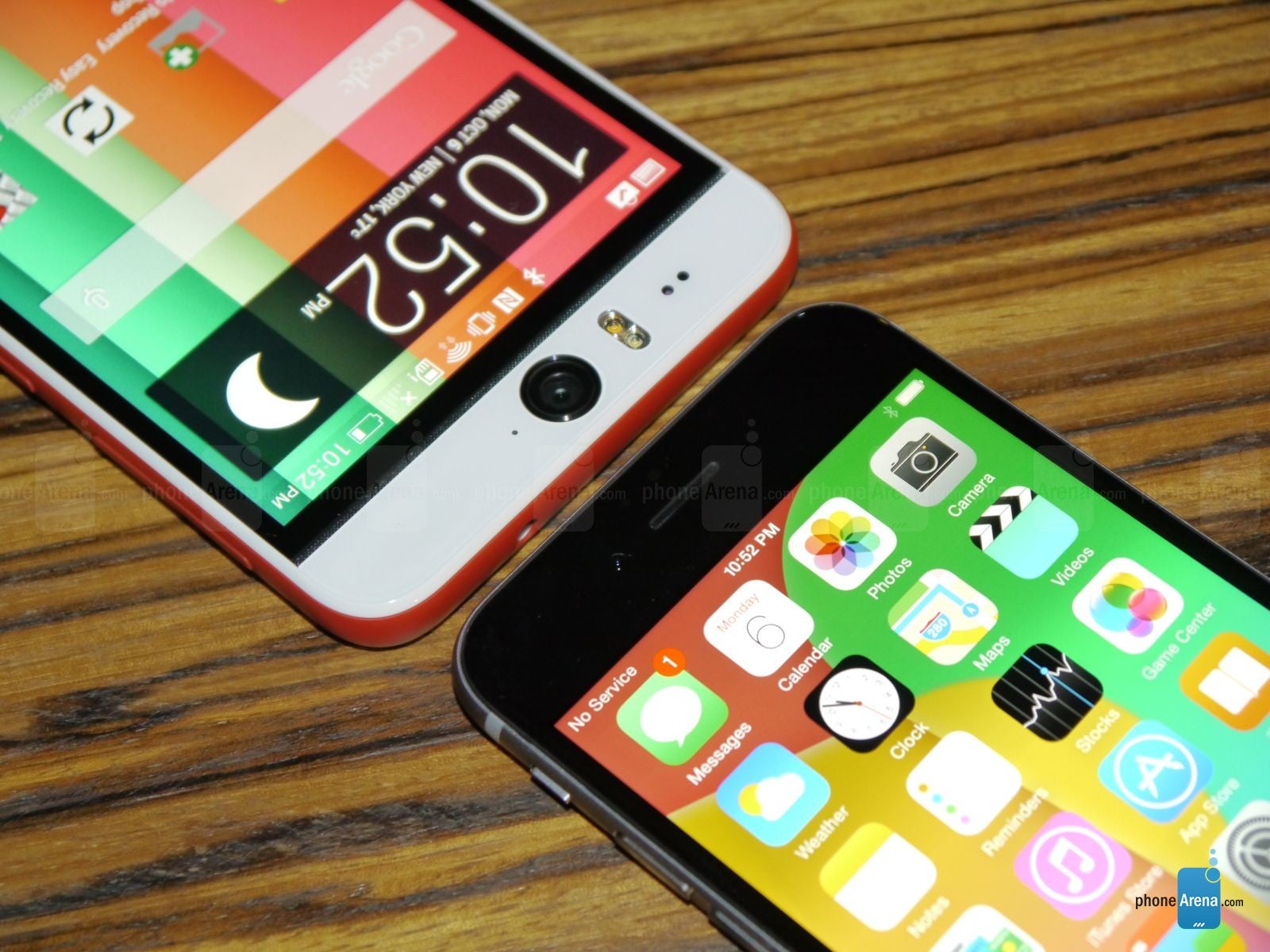 Always the one to stand close or at the top of the totem pole, the iPhone 6 has shown us that it's more than capable of snapping some spectacular photos with its 8-megapixel iSight camera. In its attempt to be relevant in the photo snapping space, the Desire EYE is outfitted with a 13-megapixel rear camera – one we're hopeful about, since the M8's Ultrapixel camera panned out to be underwhelming. However, the Desire EYE, as its name so happens to imply, is all about taking selfies with its equally potent 13-megapixel front-facing camera, which makes the 1.2-megapixel front camera of the iPhone 6 quaint. Naturally, there's a huge disparity there already, but only time will tell how much better the Desire EYE's selfies will fair against its rival.
Expectations
These two devices are targeting very different audiences. Considering that the iPhone 6 is a flagship phone, it's something meant to cater to a wide array of people – and it has shown that to us already. On the flip side, the HTC Desire Eye has more direct focus on what audience it's intended to attract. Selfie loving individuals might be enticed to what the Desire Eye has to offer out of the box, but the more pressing matter is whether or not its cameras are substantially superior in quality to overpower the top-notch results put out by the iPhone 6.