HTC Desire EYE versus Apple iPhone 6 Plus: first look
8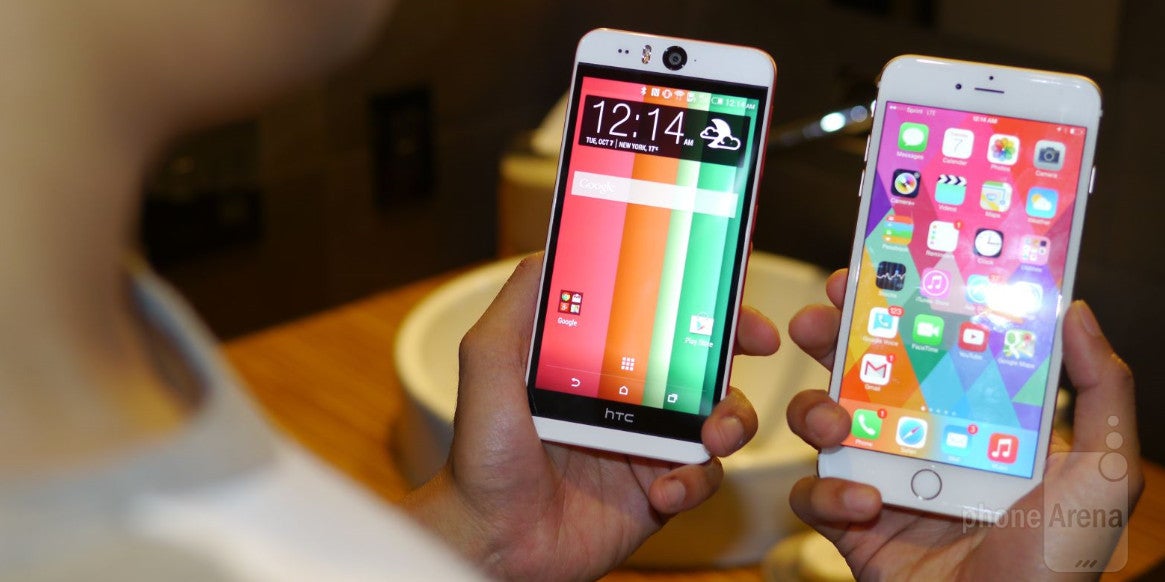 We've been staring at the iPhone 6 Plus with the HTC Desire EYE next to it, and we can't help but to draw comparisons about their designs. Aside from their materials, they both surprisingly feature the same aesthetics – where they share rounded edges that are colored differently from their main housing components. Indeed, the iPhone 6 Plus is outfitted with a larger 5.5-inch 1080p Retina display, but it's only marginal bigger in overall size than the 5.2-inch screen packing HTC Desire EYE. On one hand, we love the premium quality with the iPhone 6 Plus' construction, but on the other, the plastic body of the Desire Eye offers a water proof property that allows for some fun when interacting with the phone in the event it's exposed to water.
Indeed, Apple's new phablet is a flagship device on its own – whereas the Desire Eye is more of a focused product with its front-facing camera. Armed with a 13-megapixel front-facing camera, one that's complemented with a dual-LED flash and selfie-centric shooting modes, it seems like the go-to device for those who are big into snapping selfies of themselves. In our short time with the device, we're able to compare the results from its front camera with the one in the iPhone 6 Plus. Of course, there are certain elements that are favorable, and others that are not.
To be fair, though, we're dealing with a pre-production model of the HTC Desire Eye – so who knows if or any improvements will be seen with the final retail model. We're excited, naturally, seeing that it's a rare occurrence for a phone to heavily emphasize its front camera. Still, there are other notable areas that ultimately dictate the superior device. For example, we have their rear cameras to deal with. Already, the iPhone 6 Plus' 8-megapixel iSight camera has rocketed to the top of the charts with its sharp results – whereas the Desire EYE seems to have something fanciful with its beefier 13-megapixel sensor. Only time will tell us which phone will prove to be the phone that hardcore shutterbugs will gravitate to more than the other.