HP's Windows 7 tablet bomb said to have led to Microsoft Surface project
7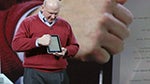 The New York Times has a fascinating piece today on how the fall of Windows 7 "slates" lead directly to Microsoft undertaking the
Surface project
, as well as how the rift created between HP and Microsoft led directly to HP's subsequent purchase of Palm. Apparently it all began sometime after CES 2010, where Steve Ballmer had shown off a prototype Windows 7 tablet made by HP that was eventually named the HP Slate 500.
The prototype HP tablet had been put together as a joint effort to try and head off the impending launch of the iPad. Microsoft had known that touch computing was an idea whose time had come, but they were still attempting to graft touch features onto the main Windows platform. HP had produced a decent looking prototype tablet, but apparently on the way from prototype to launch the product fell apart as the company struggled with the realities of what parts where available, and how poorly optimized Windows was for a touch-based experience.
The finished tablet was not slim, the x86 CPU from Intel ran far too hot requiring active fan cooling (which created a distracting noise that directly contrasted with the silent computing experience on smartphones and the iPad). The screen was not terribly sensitive, and didn't work well with Microsoft's touch controls, leading to discernible lag every time it was used.
In short, it stunk. The situation, combined with the falling market share of Windows Mobile, led to Microsoft revamping its entire mobile platform. So thoroughly did Microsoft embrace mobile that ultimately Windows 8 was made in the image of their mobile platform, rather than the other way around. But Microsoft apparently took another lesson home with them – they decided that PC OEMs weren't willing to make the big investments needed to turn out a quality competitor to Apple's mobile products.
As a result Microsoft, after adopting their Windows 8/RT/WP strategy, decided to embark on their hardware odyssey. HP, for its part, was frustrated with Microsoft's inability to make improvements to Windows 7 fast enough, as well as its delaying of Windows Phone 7. That frustration led them to acquire Palm in an attempt to free them from having to rely on Microsoft for their mobile aspirations.
If you mobile tech strategy and intrigue is your think, you should hit up the source link below to read the entire account.
source:
The New York Times
via
The Verge