HP/Gram donated 5 heavy duty servers to WebOS Ports
5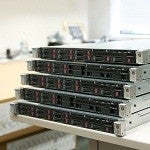 These are not leftovers from Thanksgiving. HP donated these servers to advance the progress with Open webOS. How important are servers of this caliber when tinkering around with open source code on different types of hardware?
To follow the example given by the gang at webOS Nation, when implementing changes to Open webOS ported to a Galaxy Nexus, it takes three hours or more to implement each change on a virtual machine with two 2.6GHz cores and 4GB of RAM. Indeed, it takes some real processing power to make it happen.
12-cores
of processing power,
256GB of RAM
and
4TB of storage

…

each
. There are five of them. Think of what you could do with
60-cores of processing power, 1.3TB of RAM and 20TB of storage.
As configured, the five servers would cost about $70,000.
What does this mean to you? This will certainly accelerate the porting process and may even increase the possibility of
manufacturers building hardware to run on Open webOS
. The best part of the deal is no strings attached. HP sent them out and said, "Go forth and develop."
source:
webOS Nation