HP TouchPad gets permanent price drop
14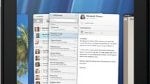 The HP TouchPad hasn't seen much success which has led to several sales and price cuts at retailers everywhere, but now HP has dropped the price of their WebOS tablet permanently for both the 16GB and 32GB models.
The HP TouchPad launched at a familiar tablet price point with the 16GB and 32GB models costing $500 and $600 respectively. The new pricing will see the tablet's pricing slashed by $100. There are surely going to be other sales depending on the retailer, like when
Woot offered the TouchPad for $379.99.
The 4G version of the HP TouchPad is still set to launch for $700 although a price cut isn't entirely out of the question. Now that the first WebOS tablet has seen its price drop, anybody out there going to pick one up soon as the new pricing goes into effect? Tell us what you think in the comments below.
source:
Electronista