HP TouchPad vs iPad 2: web browsing comparison
13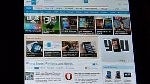 Compared to the tiny confines seen with the
HP Veer 4G
, the
TouchPad
is by far the ideal choice when it comes to web browsing with a webOS device – mainly due to its much larger display and Flash support. Needless to say, web surfing is always going to be one of the heavier sought out features with the TouchPad, but after seeing other tablets before it excelling highly in this area, we just need to see for ourselves right away on how it performs with the webOS 3.0 tablet.
Actually, we decided to see how it performs against the competition – and in this case, we're using an iPad 2 to see how it delivers the goods to the table. Connected to the same Wi-Fi network, we opened a link in a window to see which one loads up the same page first. And right off the bat, it's evident that the TouchPad is
delayed
with its operation in rendering the page. Both pictures and text load up in a timely manner right away on the iPad 2, while the TouchPad takes quite a bit of time before loading up anything at all. Furthermore, there's some
choppiness
evident with the TouchPad's navigational controls – meaning, kinetic scrolling and pinch gestures aren't as smooth looking compared to the iPad 2. However, the one advantage it holds over Apple's pride and joy is the fact that it's able to provide that desktop-like experience thanks to its
support for Flash
.
Granted that Apple has spent a great deal of time refining the web browsing experience with the iPad's browser, we're still in the early beginnings with the TouchPad – albeit, we've already witnessed the PlayBook in the same scenario before, but it managed to hit the mark dead on. Still, it's tolerable from what we've been checking out so far, but after seeing the competition before it, there's naturally going to be a lot of expectations going forward in this area.