HP TouchPad meets the FCC, or webOS tablet comes to D.C.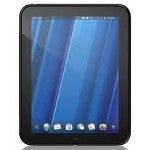 The
red carpet
was rolled out in Washington D.C. for the HP TouchPad as the webOS flavored tablet got the thumbs up from the FCC. The TouchPad has been flying under the radar, so the specs are not as well-known as those on some of the other tablets that have been launched or will be rolled out soon. So to further educate you on this device, the TouchPad features a
9.7 inch screen
with resolution of 768 x 1024. Under the hood is a
1.2GHz Snapdragon processor
and up front is a 1.3MP camera. There is no rear camera on the device. There will be a 16GB and 32GB model available and audio is handled by the Beats by Dre system.
HP has added some interesting features to the tablet so that it can interact with the
Palm
HP Pre and other webOS handsets. For example, if your Pre 3 is ringing, you can pick up the call on your TouchPad. There also will be a way to take data and
swap it back and forth
between your webOS phone and your TouchPad with a tap of the screen.
So far, there is no word on price or possible launch date, but having met the hot shots at the FCC, things should progress quickly from here on out. In the meantime, if you can't wait for a webOS style tablet, check out the BlackBerry PlayBook. The first "professional tablet" features an OS from QNX that has some
webOS-esque
(card-like) functions including certain gestures such as swiping up on a window to close an application as it moves up off the screen. For those who must have the real thing, we could see the HP TouchPad launch sometime this summer.
source:
FCC
via
Engadget