HP TouchPad Unboxing and Hands-on
5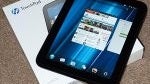 Six months after it was officially unveiled, HP is about to embark on an unknown path with the
official launch of the HP TouchPad literally right around the corner
– in fact, it's going on sale starting tomorrow! Looking back at it, the Palm Pre ushered in the era of
webOS
goodness, but in between the time since it launched, the platform has struggled to be fully adopted by the community as the onslaught of competition from all corners has seemingly extinguished its candle. Now that Palm is in a better position with HP, the
TouchPad
is indeed the culmination of their forged relationship – and the timing couldn't have been better.
Rather than going all out with some sort of flashy packaging, HP takes the reserved route as a single image of the TouchPad gracing its front cover – with the distinguishable HP logos etched onto its side. Naturally, the overall clean approach is most evident in the rear, where we find only the box's contents and pertinent information lined up towards the bottom edge. Sliding off the outer casing, we're greeted to the plastic wrapped HP TouchPad, with a small packet beneath it etched with the words "
now comes the fun part
." Well, it's not actually the fun part because we're only presented with the usual set of documentation and a useful
microfiber cleaning cloth
. In the left compartment of the box, we find its wall charger and microUSB cable. As always, we'd like to see more in terms of accessories, but it's the normal thing we come to expect nowadays.
First and foremost, the first thing to come to mind about the TouchPad is its relation with the original Palm Pre. Specifically, it sports the same
polished look
with its glossy midnight black plastic rear cover, which so happens to be one extremely
fingerprint prone surface
. Holding it for a mere minute, we're shocked to see its once pristine looking back cover littered with smudges and fingerprints. As for the rest, its conventional design isn't dramatic by any means, but taking into account the slim looks of the iPad 2 and Samsung Galaxy Tab 10.1, it's rather noticeable that the HP TouchPad is
larger and heavier
. Nevertheless, it's comfortable to hold in the hand because of its curved rear.
Turning it on, we're shocked to experience one
lengthy setup process
that requires you to connect to a Wi-Fi network in order to set up completely. Much like other webOS devices, you'll need to make a webOS account, but if you already have an existing Palm Profile, you can use it to login and skip the new registration process. Once that's done, we're finally greeted to the whole new
webOS 3.0
experience – albeit, it still feels like any webOS device at heart. Donning a
9.7" display
with a resolution of 1024 x 768, it should provide the same clarity as other similar tablets – like the iPad 2. At the same time, its
1.2GHz dual-core Qualcomm Snapdragon processor
will surely provide that responsive webOS experience that we always dream about.
Obviously, this marks a new beginning for HP, and more importantly, they're finally hitting back with a tablet that's homegrown from the inside and out. We'll be testing this one rigorously over the course of the next few days to see how it handles. In the meantime, you can feast your eyes on some of the images we snapped of it – and our unboxing video!