HP Mini 1151NR from Verizon coming on May 17th
31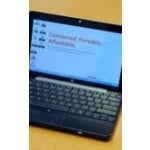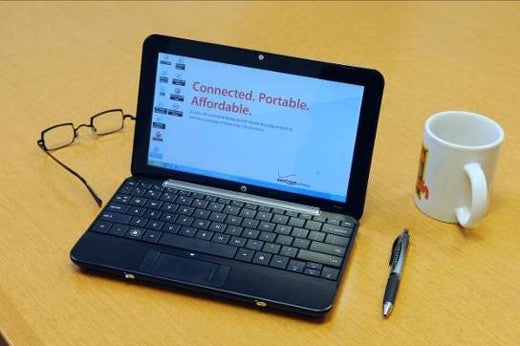 There's recently been rumors that Verizon was about to come out with a new Netbook, and it appears the rumors were true. Beginning on Sunday May 17th, you can purchase the
HP Mini 1151NR
for $199.99 after a $50 rebate with a 2-year Mobile Broadband plan agreement, $299.99 with a 1-year agreement after rebate, or $519.99 full retial. Features of the Netbook include: 10.1" 1024x576 pixel display with LED backlight, 1.6GHz Intel Atom N270 CPU, 1GB RAM, 80GB Hard Disk Drive, SD/MMC card slot, two USB 2.0 ports, Wi-Fi 802.11b/g, Bluetooth, built-in Webcam with 640x480 @ 30fps resolution, stereo speakers, integrated microphone, headphone/mic jack, and comes with a 1 year warranty. All of this is packed into the 2.4 pound Netbook and running Microsoft Windows XP Home Edition with Service Pack 3. The device connects to the internet via Verizon's EVDO Rev A network, but GlobalAccess service is also available, with it using quad-band GPRS/EDGE/GSM and tri-band HSPA/UMTS.
Mobile Broadband pricing options:
* $39.99 monthly access for 250MB monthly allowance and 10 cent per MB overage.
* $59.99 monthly access for 5GB monthly allowance and 5 cent per MB overage.
The HP Mini 1151NR, with the embedded Qualcomm Gobi™ chipset, works to provide streamlined global mobile broadband access on both CDMA and GSM wireless networks in more than 175 destinations worldwide. Customers will receive a SIM card when they sign up for a GlobalAccess plan.
GlobalAccess pricing options
:
* Monthly Plan: $129.99 monthly access, offering a 100 MB allowance in more than 30 select international destinations ($0.005/KB after allowance), as well as 5 GB allowance for the U.S. and Canada and $0.25/MB overage. All other destinations are charged pay-per-use rates.
* Pay Per Use: The perfect for occasional use and must be purchased with a $59.99 Mobile Broadband service plan in the U.S. The Pay Per Use rate is $0.002/KB in Canada, $0.005/KB in Mexico, and $0.02/KB in more than 175 other destinations.
Netbook Capabilities:
E-mail – view, edit, and create e-mail messages with attachments
Web browse – experience a full Web browsing experience
Instant Messaging and Social Networking
Videos and movies – playback videos and movies downloaded via SD card or USB CD/DVD external drive
Photos – view and create albums or transfer via SD card
Microsoft Works – view, but not edit, Microsoft Word and Excel files
Pre-Installed Applications:
VZ Access Manager
Internet Explorer 7
Adobe Reader and Flash Player
Microsoft Works
Windows Media Player 11
HP Wireless Assistant
Symantec Norton Internet Security 2009 (including 60-days of complimentary live updates)
AOL AIM
*
UPDATE
*
The Full Retail price of the HP Netbook will be $519.99. By purchasing at full retail, you are not locked into a 2 year plan agreement. You can also opt for the Mobile Broadband Day Pass, which is $15 for unlimited 24-hour use. This is good for people who only need Mobile Broadband on occasion.