Gruber: Apple iWatch to be introduced next month
30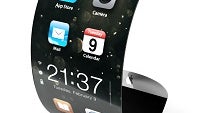 John Gruber has a good reputation when it comes to leaking information about Apple devices. So when he says to expect the long-awaited Apple iWatch to finally see the light of day next month, there is a very good chance that it will actually happen.
Apple is holding an event on September 9th
that is expected to unveil the Apple iPhone 6. It is possible that the iWatch will also be introduced at that time.
By July of last year, Apple had
trademarked the iWatch name in a number of countries
. The wearable is expected to come out of the box with a number of sensors that will allow it to capture health-related metrics such as heart rate, blood pressure and possibly blood glucose readings. That information can be
sent to Apple's Health app, where it will be analyzed
. The app debuts on iOS 8.
There is plenty of pressure on Apple to deliver a game changer when it comes to the smartwatch category. While a number of timepieces have been launched by Apple's rivals like Samsung and LG, so far there hasn't been one particular model that has captured the attention of the public.
source:
DaringFireball
via
RedmondPie