GroupMe for Windows Phone updated joins the "emoji" crowd
1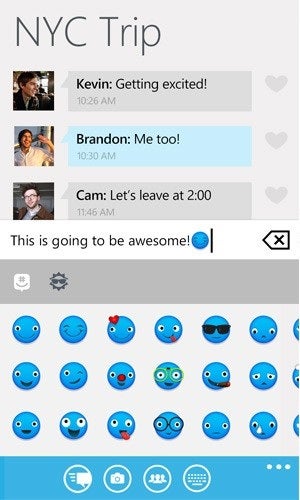 It looks as though GroupMe is keeping momentum going across the three major platforms. Recently, iOS and Android versions of GroupMe were updated with new emoji icons, most of which were GroupMe originals.
This weekend, GroupMe ensured the new feature set was available and functional for the Windows Phone platform too. We would expect nothing less since GroupMe is part of Skype and Skype is part of, well, you know.
As far as emoji icons go, GroupMe's are distinctive and original to the app, not your typical yellow face with the same expressions. No-no, we have blue faces true to GroupMe's "blue" as well as "GroupMe emoticons," images that use the GroupMe logo to express a mood.
The update ensures proper integration with Windows Phone's outstanding text-prediction. One interesting factor is when you select an emoji icon, it will appear as a text annotation in the compose box until the message is actually sent.
What do you think of the GroupMe updates of late? Is it your messaging app of choice?
source:
WPCentral