Grippy Pad makes your smartphone sticky with microsuction magic
10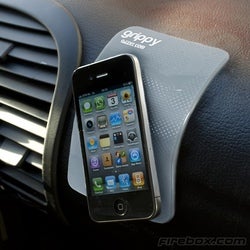 Blitz question: what do geckos and the Grippy Pad accessory have in common? The answer is that both of them have mastered the art of microsuction. As if by magic, the Grippy Pad can stick to a wide range of surfaces, and the dashboard of your car is no exception. And thanks to the miniature suction cups that Grippy's surface is covered with, you can easily stick a smartphone or a tablet to it without worrying that the device is going to fall off.
Sounds cool, we have to admit. But what is even cooler is that the Grippy Pad requires no adhesives of any kind, meaning that it does not leave any traces once you decide to peel it off. And since it is resistant to sunlight and doesn't wear off, meaning that it will serve you well for years to come. Not bad for an accessory that costs about $11, right?
If you are still not convinced, check out the impressive video demonstration available at the link below.