Google's next moonshot is a contact lens for diabetics
14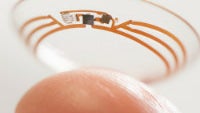 When you see a story about Google and a contact lens, you may assume that the company wants to move beyond Google Glass. Of course, pretty quickly you'll remember that we are not really that close to having the technology that could offer a contact lens computer (where would the battery be?) But, it turns out that Google is working on a contact lens... for diabetics.
While the actual technology is interesting in this announcement, the first thing that we noticed is that the announcement is from Google and makes no mention at all of the health/biotech company that Larry Page recently announced, Calico. Calico has been tasked with fighting against human aging though, so maybe it does make sense.
The news is that Google is in the process of testing a contact lens which is designed to test the user's glucose levels in their tears once per second. Diabetes is a huge problem, especially in the U.S.; and, there are a wide range of complications that arise - including damage to the eyes, kidneys and heart - when glucose levels aren't monitored. The contact lens has "a tiny wireless chip and miniaturized glucose sensor", and Google is considering adding small LED lights to indicate when glucose levels cross a certain level.
Google wants to be clear that everything is still in the testing phase, although it has begun talking to the FDA and it has been looking to find partners in bringing the product to market.