Google's Eric Schmidt's MWC keynote gives us a peek at Chrome, the web and the future
10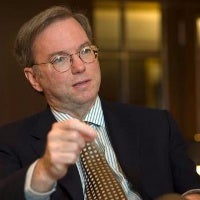 Google's chairman
Eric Schmidt
stepped up on stage at MWC 2012 and delivered one of the most inspiring talks starting with Google Chrome for Android, how it matches the Android design paradigm and the seamless experience it delivers for various devices.
But it wasn't just about Chrome - Schmidt spoke about Google projects like the
self-driving car
reiterating that this will become reality sooner rather than later. The idea behind it is not just convenience, but mostly security as over 90% of car accidents in the States are rooted in human error.
At the same time, Schmidt warned that the World Wide Web is not exactly world wide - only 2 billion out of the 7 billion population on Earth have access to the Internet.
But this will change, Schmidt predicted quoting Moore's law of processing power doubling every year, then he theorized that in 12 years, "phones that cost $400 will cost $20, and if Google does it right there'll be Android in literally every pocket." Check out the enlightening keynote below and share your thoughts about the technology of the future below.
source: Google