Google vs Microsoft: a case study in how you win and lose manufacturers' love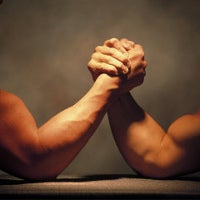 Last week, Microsoft unveiled its Surface tablet - self-made, with no collaboration from any of its manufacturers, not even Nokia. We can't even twist our tongues to say Microsoft really unveiled it.
The company rather teased what it will be, but provided no specifics and put it on stands with ropes to keep reporters from even getting closer to the tablet.
Not only we in the media were upset, though - Acer was angry and said Microsoft will fail. Others weren't so vocal, but we can imagine they were not very happy to hear they have direct competition now from Microsoft.
The search giant finally unveiled the Google Nexus 7 tablet - the product of a four-month collaboration with Asus. On the back, the slate has both the Nexus branding and Asus's name engraved on the rubbery back coating.
What point are we trying to drive home here? There was one company Google spent $12.5 billion on and it didn't get Google's largest tablet project. That company as you've already guessed by now is Motorola. One thing became glaringly clear - at least for the time being - Moto is not getting the red carpet treatment from Google.


"At first I think our partners weren't sure whether we really meant what we said about not giving Motorola preferential treatment. But they've seen us do another Nexus smartphone with Samsung and the Nexus 7 tablet with Asus, so I think they see that Motorola is not getting preferential treatment. It's all about the ecosystem," director of Android partner engineering Patrick Brady, said in an interview for CNET recently.


Looking back at events we appreciate just how densely packed with events June was. First we had Apple's WWDC where the company iterated on its strategy with iOS 6 and its focus on high-res displays driving hardware advancements in the industry.
Software and hardware innovation came a long way in the last couple of days, and we now find it hard to judge who wins the mobile OS battle after all the news we heard, but it seems clear that Google is now winning the battle for manufacturers' love.