Report: Google to upgrade third-generation Pixel handsets to compete with Apple (UPDATE)
42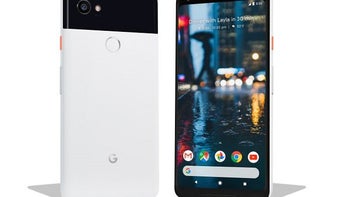 According to a fresh report published today, Google is coming after the Apple iPhone with its third-generation of Pixel phones. Some of the information in the report matches the image we showed you the other day of
two screen protectors allegedly produced for the upcoming Google Pixel 3 and Google Pixel 3 XL
. According to people familiar with the project, the Pixel 3 XL will sport a notch and features an edge-to-edge display. The bottom bezel will be thicker. The Pixel 3 will look very similar to the
Pixel 2
.
Just like it did for the first two-generations of Pixel handsets, Google is expected to unveil the third-generation phones in October. Because of the Pixel line's limited distribution (Verizon is the only major U.S. carrier selling it), the company delivered less than 4 million units last year. Despite that low figure, Verizon will once again be the only U.S. carrier where you will find the Pixel 3 and Pixel 3 XL, according to
Bloomberg's
sources.
One of the people familiar with Google's plans says that
the engineering team it acquired from HTC last year
is playing a big part in the design of the hardware and software for the new Pixel phones. And Google plans on using Foxconn to manufacture the two new Pixels; that is the same contract manufacturer employed by Apple to assemble the iPhone.
UPDATE:
An unnamed official with LG Display says that LG has been picked by Google to supply the notched OLED panels for the Pixel 3 XL. The official said,"We have maintained close ties with Google and the volume will not be much different from the previous one."
One new feature that will reportedly be offered to those buying the larger Pixel 3 XL, is a dual camera setup in the front of the phone. Both new Pixel handsets will continue to have a single camera on back, which will be upgraded for the new models.