Google to take on some of Samsung's burden in patent dispute with Apple
62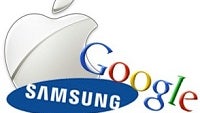 An attorney for Google testified in court that it would take over the defense against some of Apple's claims in the patent lawsuit between Apple and Samsung. The move is part of a contractual agreement between Google and Samsung, where the former would indemnify the latter should Samsung suffer a loss as a result of whatever the ruling ends up being.
Google will cover Samsung on four of the patents in dispute, and take over the defense against Apple's claims over those patents. Neither Samsung nor Google identified which patents affected.
Apple's lawsuit against Samsung is over five patents and is arguing that Samsung should pay a couple billion dollars as compensation for infringement. Samsung is of course saying that it does not infringe on anything and is arguing the patents are not valid to begin with.
Up to now, Google has been on the sidelines, despite these issues being more closely related to the Android operating system or associated applications that were developed by Google. However, this shows that Google is indeed playing a more dominant role in defending the case along with Samsung.
Google's direct involvement in the defense is part of the "Mobile Application Distribution Agreement" the company has with Samsung. This basically ensures that Samsung include a number of Google applications on its smartphones when they are sold, like Gmail and Google Maps.
source:
re/code