Google testing solar-powered drones to deliver wireless internet from the sky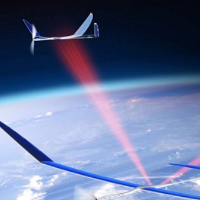 According to a report published today, Google is secretly testing a way to use solar-powered drones to provide high-speed internet service to the public on the ground. The test is part of what has been dubbed Project SkyBender, and is allegedly taking part at Spaceport America in New Mexico. Radios on the ground at the Spaceport receive signals from multiple drones.
The tests are using millimeter-wave radio that is a technology being explored for use in 5G wireless systems. With theoretical data speeds 40 times faster than today's 4G LTE signals, users will be able to download a feature film in just seconds. But there is a downside. Millimeter-wave signals travel one-tenth of the distance that 4G LTE signals do. To make up for this shortcoming, University of Washington professor Jacques Rudell says that Google would have to use phased arrays to allow high-flying drones to send millimeter-wave signals down to earth.
Project SkyBender is being developed by the same Google Access team that is working on a way to deliver wireless internet using balloons floating through the stratosphere. The solar-powered drones are made by Google Titan, and the SkyBender project is being tested with a optionally piloted plane called Centaur.
The project is similar to one worked on by the U.S. Military's Darpa research arm. The project, called Mobile Hotspots, was tested back in 2014 and used drones to deliver a wireless internet signal traveling at 1Gb per second. The project was being developed for troops stationed overseas that need a stable and secure internet signal for communications.
source:
TheGuardian