Google reportedly working on cross-platform file transfer called Co-presense
25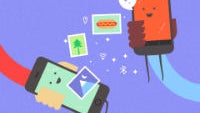 Android 5.0 is already going to be beefing up Android Beam to allow for transfer of more file types, but it looks like Google is also working on a product that would allow file transfers between Android, iOS, and Chrome. The cross-platform file transfer system is supposedly called Co-presence, though we're really hoping that name changes for the proper release, because it doesn't quite have the ring of a compelling product brand.
It seems like more of a project name anyway, because Co-presence has popped up in a couple APK teardowns, and Google does have a patent filed under that name as well. It appears like it could be connected to the
Nearby
features that Google is also working on to give you more options to interact with devices close by. Co-presense appears to be aimed at allowing Android, iOS, and Chrome devices communicate with one another and allow for exchanging files, photos, directions, messages, or other content.
Devices would use location data or Bluetooth to establish a connection, then transfer files through Wi-Fi or Wi-Fi Direct, it seems. It appears as though Google might have plans for the product beyond simple file transfers, but it is unclear what that might mean. It could be deeper syncing of data between devices, similar to the new Continuity features between iOS and Mac; it could be more seamless casting to Android TV or Chromecast; or, it could be something else completely different. We're not sure just yet, so we'll have to wait and see.