Google reminds devs that the menu button is a dying beast
12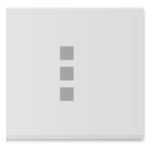 Since the launch of Android, the menu button has been a staple, right there along with the back and home buttons (and more often than not the search button as well), but with Ice Cream Sandwich, Google is on a mission to kill that button. And today, Google made an effort to remind developers of that.
With Android 4.0, Google wants to push developers to not hide useful functionality in menus anymore, and so it has killed off the traditional "menu button" in favor of an "action overflow button". The distinction is a subtle one, and one that many developers may ignore and users may not need to understand. The idea is that any important features should be placed on the Action Bar within an app, and the less important features get relegated to the action overflow button. The trouble with this sort of semantic change is that while it may surface some hidden functionality in some apps, it will still likely be used to house the same options you'd expect to find in a normal menu button like settings, about info, and bug reporting.
However, it seems that the aim of Google's reminder today is really to remind developers to update their apps and fix any legacy issues. Unless devs update, the new action overflow button will show up right next to the multitasking button, and sometimes it may not actually do anything if you tap it. And, Google's note today also serves to remind devs that they can use the new
Style Guide
and Action Button icons from the Holo theme.