Google planning a dedicated Glass app store in 2014
3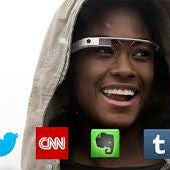 We know that Google Glass is planned for a proper consumer release next year, and it would follow that the device will need an easy place for users to get apps. Right now, there's no official centralized way to find apps, but it shouldn't be a surprise that Google has a plan for that, and intends on having a dedicated Google Glass app store ready for 2014.
The news first came out from the New York Times, and was later confirmed by a Google representative who said that there will be a dedicated Glass app store "when Glass is available to the general public." It wasn't immediately made clear whether the Glass app store would be part of Google Play, but Google has previously hinted that would be the plan. And, Google has hinted through Glass update changelogs that it would support Android APKs.
The one thing that still isn't clear is whether or not developers will be able to charge for apps. Under the current terms of service, Google doesn't allow for paid apps on Glass, but it seems reasonable that the terms of service will change when the device moves from the current beta state to being a consumer device.