Google launches search app for iPad
15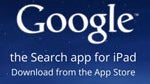 Google has released the newest version of the Google Search app. In a recent blog post, Google states, "We have added new features to make the app more interactive, more visual and to help you find what you want more easily." The Google Search app is targeted at iPad users, however, it is available for all iOS 4.0+ devices. Google has also released a YouTube video that demos some of the new features in action.
The Google Search app now uses Google Instant to display search results as you type. When you select a result, the page loads in a slide-in panel that sits on top of the search results. The new app allows users to slide the page to the side of the search results so that the user can continue through the results and quickly switch back and forth between search results and web pages.
Google has added a few features to make the app a more visual experience as well. It has integrated Instant Previews into the app to compare web pages before making a selection. This update adds the ability to load image search results into a carousel that can easily be swiped through to view the results. Also, the search history loads a screenshot of previously visited web pages so that users can swipe through and find a page without having to type.
Once a page is loaded, the toolbar at the top has a new magnifying glass tool that highlights the most relevant section of the page and, of course, a +1 button. All of the other Google services such as Gmail, Calendar, Google News, Maps, and YouTube are accessible from an Apps menu that can load each service into the slide-in pane.
Interestingly enough, the video also shows a voice search where the user asks, "How tall is Sutro Tower?" and the app returns relevant search results. Since Google's search engine already supports intuitive questions, it seems this is more of a voice transcription that enters your search terms into the box rather than a Siri competitor that can understand what you're asking and decide between performing a search and launching an app.
The Google Search app is available now in the App Store and is, of course, free.
Google Search [iTunes link]
source:
Google Mobile Blog
via
Mashable