Google launches lite version of Gboard, but only for Android 8.1 devices with low RAM
5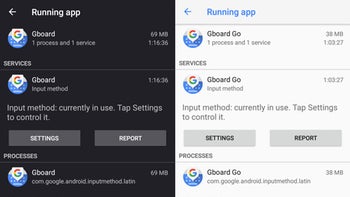 Unveiled last year, Google's
Android Go platform
is meant to allow users who can't afford expensive smartphones to benefit from the same Android experience using cheap devices. In order for that to work, many Google apps need to be optimized to run on smartphones with less RAM.
That's how
the so-called "Go" apps
appeared last year. Maps Go, YouTube Go, and now Gboard Go are lite versions of their full-fledged counterparts. While some of them are available for download via Google Play Store, the new Gboard Go app hasn't been listed there yet.
However, it appears that Google is rolling out the new Gboard Go app to all devices running
Android 8.1 Oreo
and have a lower amount of RAM. Unlike the full version of the app which uses 70MB of RAM, Gboard Go uses slightly less than 40MB of RAM.
Considering the requirements, not many smartphones will be able to run the app unless you sideload it manually, but that would mean that you'll have to edit some of the software on your phone to trick the app to think your device has less RAM.