Google just launched a revamped version of Google Earth, and it's awesome!
3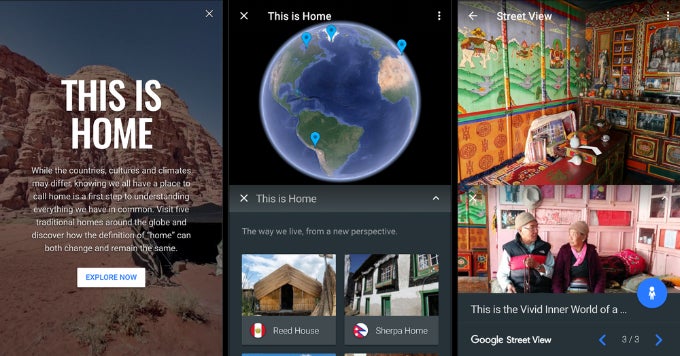 Four days ahead of Earth Day, Google has unveiled the revamped version of Google Earth, and it brings a lot of cool new features to the table, such as improved 3D capabilities and professional guided tours. Two years in the making, the brand-new version of Earth is available on the web, while an update for the Android version of the app is rolling out on Google Play.
To fulfill its vision, Google has teamed up with a handful scientific and non-profit organizations that played a role big role in creating Google Earth's new "Voyager" section – a magazine-style page for guided tours and curated content. Some of the first "Voyages" include a BBC Earth-produced "Natural Treasures" tour that will take you on a journey through a myriad of breath-taking locations divided into six categories, as well as a Sir David Attenborough-led documentary on birds, called "Beautiful Birds-of-Paradise."
Another new feature in Earth is the Google search staple "I'm feeling lucky," which, as you can probably guess, can take you to an unexpected location at a whim. Notice how we didn't say "random," however, and that's because tapping the new die icon actually teleports you to one of 20,000 curated locations, instead of a completely random place. That's not a bad thing, actually, as you get the chance to explore more interesting places, instead of being transported to, say, the middle of the Atlantic Ocean or the Siberian tundra.
Another highlight of the new version of Google Earth is its improved 3D capabilities. Upon firing the Android app, or launching the web version, you'll see a new "3D" button that magically brings flat satellite imagery to the third dimension. If you're particularly impressed with something, you can tap the new "Camera" icon to instantly share a screencap of your view, alongside a link to its coordinates.
The revamped web version of Google Earth is already live and you can check it out by following the link below. The version 9 update for the Android app is already rolling out on Google Play, although it may not have reached your region yet, in which case you're going to have to wait for a day or two.
Google says that the new Google Earth will be made available on iOS and on other browsers, besides Chrome, later this week.
Check out the revamped Google Earth: