Google introduces YouTube One Channel to make your brand shine from phones to desktops
2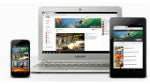 Google has been slowly pushing redesigns to YouTube, because the entrenched YouTube community is not one that abides change very well. So, Google has been focusing more on the content creator side of things to make the changes. The newest change is to introduce YouTube One Channel, which is an effort to help channel creators better show off their brand on devices from phones to tablets and desktops.
YouTube One Channel focuses on three factors to help content creators to brand their channels properly. The main aim is in Google's favorite vein of responsive design, so now channels can be designed once and that design will be automatically tailored to fit phones, tablets, and desktop. Part of it is in adding a large title image. Creators are also given more control over how their channel is displayed by organizing videos, and setting up custom playlists, and sub-channels for different categories of content.
Lastly, creators can now have a special intro video that will play to users who come to the channel page but aren't already subscribed, so viewers can get a quick idea of what the channel is all about. Subscribers won't see that, and will be able to get into the new content right away.
It's a nice system, and if you're interested in building up your own channel, just head to the source.