Google design VP compares smart watches to electric can openers, doesn't open a can of worms
4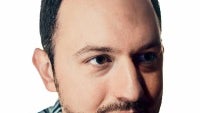 Google VP of Design, Matias Duarte, sat down for an interview with Bloomberg's Joshua Topolsky at the Business Week design 2015 conference. The Android Wear smartwatch on Duarte's wrist shifted the conversation to the wearables everyone loves to hate (while they secretly want one), and the top googler was admirably level-headed on the subject. Duarte compared today's smart watches to the almighty electric can opener - in the way that not everyone really needs it, or even pondered getting it at some point, but having one is better than a mechanical one. Can you argue with that?
With this statement, the VP didn't open a crack of worms, but merely shared a reasonable sentiment. He also claimed that you probably want a smartwatch if you're swarmed with notifications, or like to track your fitness accomplishments.
Without becoming defensive, Duarte tried to extinguish the ongoing debate around smart watches' usefulness by giving an insider's glimpse on the future. After all, he represents a company that's building the future as we speak, so don't take his words lightly. One day, the VP says, our everyday computer will be a series of connected devices, and we'll be treating them the way we treat apps today.
One device, one purpose - we get it, but geez, Matias, the future sounds kind of expensive! At least the present is clear - smart watches are nice to have, but hardly a necessity.