Google-backed research looks to fight fake reviews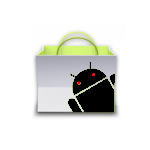 User reviews have become some of the most important pieces of information that exist on the Internet, but more importantly on mobile devices. We rely on user reviews to help us pick restaurants in Yelp or Google Maps, or get the best apps, music, videos, and books in the Google Play Store, iTunes App Store or Windows Phone Marketplace. Unfortunately, fake reviews are a growing problem without a clear solution.
Google wants to find a solution though, so the company has helped to fund research at the University of Illinois at Chicago. The trouble is that noting fake reviews is a pretty easy task, according to the researchers, but it's an incredibly difficult job to do with an algorithm. The research team has presented a possible solution in the form of an algorithm called GSRank, which was created to target the behavior behind review fraud rather than the identity of the offender. The algorithm looks to catch fraud through a number of key fingerprints from groups of reviews including the time they were posted, the similarity of review/rating, the group size, and of course when the reviews were posted, because reviews posted too quickly in the life of an app tend to be fake.
Of course, this research and the subsequent filtering from GSRank could be a huge boon to any app store, though it is likely the Google Play Store would get the benefits since Google backed the research. It would definitely help us find the best content, and also help businesses avoid any potential problems from negative fake reviews.