Google announces $14.4 billion in revenue, $1.51 billion for Motorola in Q4 2012
30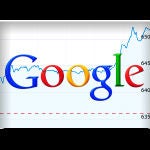 Google has reported its earnings for Q4 of 2012, and the numbers keep going up. During the quarterly earnings call today, Google announced a total of $14.4 billion in revenue, and $1.51 billion for Motorola in Q4 2012, and net income including net loss from discontinued operations in the fourth quarter of 2012 was $2.89 billion. Unfortunately, there's no easy way to figure out where Android fits into the numbers.
Google-owned sites generated revenues of $8.64 billion, or 67% of total Google revenues, and Google's partner sites generated revenues of $3.44 billion, or 27% of total Google revenues. That leaves the mysterious "other" category, which posted $829 million in revenues, or 6% of total Google revenues.
We want to assume that "other" would be Google hardware, which would mean $829 million in revenue from sales of the Nexus 4, Nexus 7, and Nexus 10. But, there is a possibility that the "other" section refers to hardware not sold through Google, because the Play Store revenue would theoretically be part of the "Google-owned sites" section.
We can't say for sure, because nowhere in the earnings report does Google ever mention Android, the Nexus hardware, or the Play Store.