Google announces 1.5M Android activations per day, and 50B app downloads
16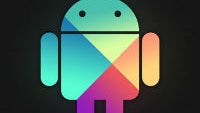 Back in May during Google I/O, Google didn't announce its usual Android activations per day metric, and instead gave the total of
900 million
Android devices activated. That number doesn't help all that much, because it covers every Android activation since the platform first started in 2008. Much more useful is the number that Larry Page gave today:
1.5 million Android devices are activated every day
.
Given that Page announced
750 million
Android devices activated in March, when Andy Rubin stepped down as head of Android, and 900 million in May for Google I/O, it seems that 1.5 million activations per day may actually be a bit low. Either way, that keeps Google
on pace
to see its 1 billionth Android activation before the end of this year.
At the same time, when Page announced Rubin stepping down, he said there had been 25 billion app downloads from the Google Play Store; and, today Page announced that the store has surpassed
50 billion app downloads
. At that pace, we could see 100 billion come and go before the year is out.
Page also announced 750 million Chrome users worldwide, and ran through other improvements the company has made, ranging from Knowledge Graph enhancements to
Project Loon
.