Google and Facebook ban fake news sites on their ad networks
10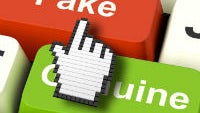 The topic of fake news and the websites that propagate false stories has gotten a lot of attention in the aftermath of the U.S. presidential election. Google has taken heat for having incorrect news stories pop up in its search results, while
Facebook has been criticized
for the amount of fake news shared on its platform throughout the campaign.
Neither company is taking on fake news sites directly, but both are taking aim at disrupting the financial incentive these sites have by banning fake news websites from using the ad-selling networks from Google and Facebook. Google made the announcement first and said it would ban the sale of ads "on pages that misrepresent, misstate, or conceal information about the publisher, the publisher's content, or the primary purpose," which would include fake news websites. Facebook made its announcement later and tried to make it sound as though it had this policy all along and the company was simply updating the policy "to explicitly clarify that [it] applies to fake news."
The implicit aim from both companies is that by barring fake news sites from selling ads, the sites would lose financial benefits from operation. It seems to us as though Google and Facebook want to try to kill off fake news sites without taking an active hand in editorial decisions. Unfortunately, neither company has mentioned yet how they plan to identify fake news sites or enforce these policies.