Google acknowledges Nexus S failure during longer calls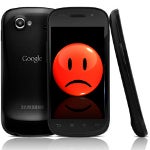 Nexus S
users have been complaining about their phone rebooting mid-call mostly during calls longer than 3 minutes, but up until recently Google did not admit the issue publicly. Well, it has now been successfully reproduced by a Google employee and hopefully a fix will come out soon.
The phone has been reported to restart with no apparent reason in various circumstances, but most often during
longer calls
. Some users reported that their phone would restart even during a shorter conversation and this definitely qualifies as a dead serious issue. It is not yet clear whether it is a software malfunction or if the problem is in the hardware. With Best Buy's two-week return policy running out for many soon, hopefully some information will appear soon that will shed some light on the issue.
While we hope that this is not ahardware problem, a Gingerbread-related problem would also be a misfortune for Google as they chose the Nexus S as the showcase handset for their latest version of Android. Have you experienced the same frustrating issue on the Nexus S?

source:
Google Mobile Forum
via
IntoMobile