Google Wallet might roll out on September 1st
1
Google's
NFC-based Wallet mobile payment service
aims to turn your smartphone into a credit-card replacement and it has the support of a handful of retailers include RadioShack. One of the Shack's employees however did more to hint about the service release date than Google ever managed to do - basically he revealed
September 1st
as the exact date when Google Wallet is expected to go live.
Or at least that's when RadioShack will start supporting it. This would also mean that NFC readers would be installed at the retailer's numerous locations.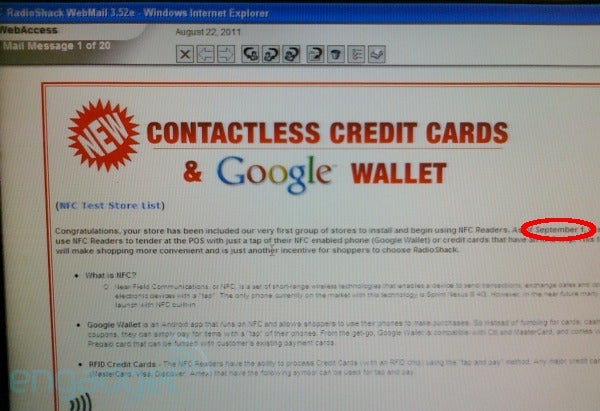 RadioShack might have leaked the Google Waller launch date
You might wonder, where you'd get all those NFC-enabled phones and rightly so as only a couple of current subsidized handsets come equipped with the chip, but Google has promised to provide
stickers
which you can attach to the back of your phone and still expect the service to work.
So even though that's single screenshot doesn't go for conclusive proof about the exact release date, the least it does is inform us that Google's retail partners are gearing up for the Wallet launch. Does Google's service have any competition? Check out our detailed look at all the options on the table to find out.
source:
Engadget