Google Search can now deep link to in-app content and stream apps to your phone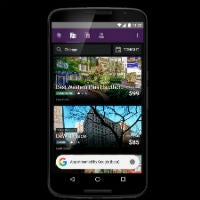 For all of its efforts and claims to be moving away from search, Google is still fundamentally a search company, and one if its biggest projects recently has been to surface data that had been locked inside apps and make it searchable. In that effort, Google began indexing apps two years ago, but until now has only been able to show apps that contain certain data. Now, Google Search can deep link directly to that data.
Google said in its announcement that 40% of searches people do on Android surface app content and that in two years it has gathered 100 billion deep links to content within apps. Of course, this is still Google so it is rolling out the new deep links slowly. To start, these "app-first" content links in Google Search will only work with a limited number of apps, including HotelTonight, Chimani, Daily Horoscope or New York MTA Subway Map. Given that Google has 100 billion deep links, we're hoping the number of compatible apps expands quickly.
However, deep linking isn't the only cool announcement Google had. If you try to follow one of those deep links from Google Search and you don't have the app on your device, Google can now stream the app to your device, which means the link will bring you to the location of that data in the app and even allow you to continue through an app (like finding a hotel listing in HotelTonight and being able to then complete the booking). If you like the experience, you can then choose to fully install the app.
We're assuming that this latter feature is the bigger reason why Google is slowly rolling out the deep links, but it also seems to require more cooperation between developers and Google, so it's unclear how quickly any of this will expand. And, while Google doesn't explicitly say, we're also assuming that the app streaming (and perhaps deep linking as well, but this is less clear) is available only on Android.